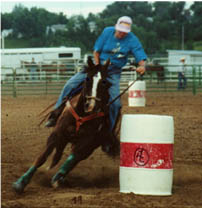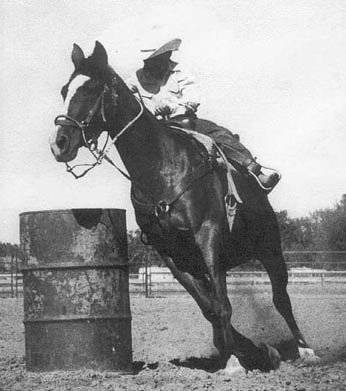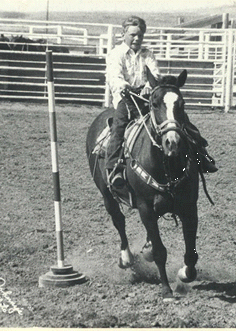 1975 foundation bred daughter of Chieflika with Joe Hancock, Oklahoma Star & Bert breeding.

Miss Centava Chief was used for ranch work, 4-H & rodeo.  She won awards in barrels & poles.  She has produced many award winning horses in barrels, poles, calf roping & team roping.

This page is dedicated to our great old mare

Miss Centava Chief

1975 daughter of Chieflika ROM

Producer of many rodeo award winning horses

Used as a 4-H horse by our son

Currently being used for our granchildren

to learn  to ride.

Family member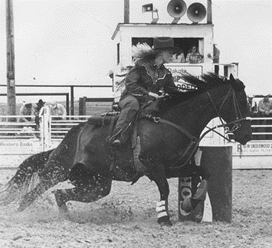 SDHSRA

State finals

   1991

         Miss Leo Shanty

Cheyenne Vig  who later became

Miss Rodeo South Dakota

High point winner in pole bending & reserve high point winner

in barrels at Belle Jackpot 2002

Feeding time 2003

Cass 3

Tava 28

Performing Foals of Miss Centava Chief


HORSE






WINNERS IN EVENTS





COMPETITION
Miss Dusty Chief



           Barrels & Pole Bending




Youth & 4-h rodoes
Shanty Chief


   Barrels, Poles, Calf roping & Team roping        4-h, high School & Amateur Rodeo
Miss Leo Shanty



   Barrels, Reining & Team roping


High School & 4-H competition
Leo Shanty Wrangler




Barrels  &  Team roping


    4-H  & jackpot  competition
Coureur Kid







Barrels





  Year end jackpot reserve champion
Miss Alabar Chief




Barrels, Poles & Goat tying




Amateur jackpot & 4-H
Mischief Chocolate





Queen Contests




4-H & High School Rodeo
Other Foals of Miss Centava Chief













Miss Leota Chief



           Kids horse







South Dakota
Lika Shanty Son




Ranch horse





     South Dakota
Coureur Miss



   Ranch horse & brood mare




     South Dakota
Lika Coureur




       Saddle horse




             Eastern South Dakota 


Alamitos Beggar




  Ranch horse






   South Dakota
Chief Alamitos Bar



     Ranch horse






      South Dakota
Kota Chief





     Ranch horse







Nebraska
Hatcreek Bailey



  Our black stallion -great grandson of Leo
Chieflikas Miss Skip



Our black broodmare





Injured & not ridden
Kings Centava Breeze



22% King broodmare




Ridden as 2 & 3 year old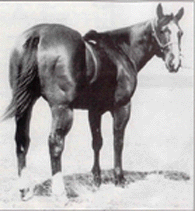 Chieflika was the sire of Miss Centava Chief.  She was his last foal--- foaled in June, 1975 (Chieflika died in March 1975 at the age of 20.)  Chieflika was a blood bay by Fire Fly Chief and out of the race mare Star Beggar N.

Chieflika earned his ROM in barrel racing, pole bending & calf roping.  he won numerous awards and money in the RCA (later PRCA)  & GRA (which became the WPRA), SDRA & NRCA circuits.  He was also was used in and won in team roping, steer wrestling & cattle cutting.

Congratulations to Trisha Smeenk who is currently the SDHSRA queen & was the SD 4-H Ambassador (queen) in 2004.  She rides a black mare that is a daughter of Miss Centava Chief & a granddaughter of Chieflika.   Trisha is a great neice of Jack & Betty Smeenk, the owners of Chieflika.